Explore Twitter Trending Topics
Know what's happening now : Trendsmap shows you the latest Twitter trending hashtags and topics from anywhere in the world. Click on a word, zoom into your area of interest, and explore. You can also jump directly to our Locations or Top tweets :
Explore the past : Analyse and visualise any topic, hashtag, word, user, or tweet in detail. Explore back hours, days, weeks, and even months.
Be the first to know : Create email and Slack based alerts for any topic. Our easy to use queries allows you to refine the results to be exactly what you need.
Global
2,300 tweets in the last day
Udah hari Sabtu! Saatnya #3ViaTime nih, gaes! Ada total pulsa 125K buat kamu.
Jawab pertanyaan di gambar, ya. Eits! Sebelum jawab, harus follow @3CareIndonesia dulu, lalu RT & Like twit ini, baru deh jawab pakai #3ViaTime & #3CareIndonesia

Mudah, kan? Ayo, ramaikan, gaes! 😎 pic.twitter.com/Q3ouwdsbFD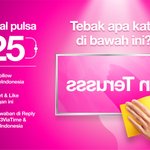 Eh, gaes! Tau gak kalo cerita Gumiho akan dibuat ulang, loh! Judulnya "Tale of Gumiho", hmmmm.. Kayak gimana ya ceritanya? Penasaran gak, gaes? Kalo aku penasaran banget! 🥰
#3CareForYou
#3CareIndonesia
Gak kerasa udah hari Jumat aja, gaes! Enak nih rebahan sambil video call sama kesayangan atau nonton film/series favorit di rumah. 😅
Btw, aktivitas apa sih paling kamu kangenin di weekend sebelum ada pandemi ini? Share dong!
#3CareForYou
#3CareIndonesia