Explore Twitter Trending Topics
Know what's happening now : Trendsmap shows you the latest Twitter trending hashtags and topics from anywhere in the world. Click on a word, zoom into your area of interest, and explore. You can also jump directly to our Locations or Top tweets :
Explore the past : Analyse and visualise any topic, hashtag, word, user, or tweet in detail. Explore back hours, days, weeks, and even months.
Be the first to know : Create email and Slack based alerts for any topic. Our easy to use queries allows you to refine the results to be exactly what you need.
Global
540 tweets in the last day
Vote @BernieSanders for President and Lawrence Hamm for US Senate in the #NewJersey Democratic Primary on Election Day, June 2, 2020. Donate via ActBlue buff.ly/39me4vY
#Bernie2020 #GOHAMM2020 #berniesanders #demdebate #CNNDebate #coronapocolypse #saferwithsanders #nj pic.twitter.com/8oPNk8qdeo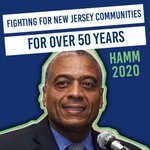 Subsequently -- if it was only the Trump administration and no fault of the media -- why in the February
#Demdebate
on NBC was there no question about the coronavirus?