Explore Twitter Trending Topics
Know what's happening now : Trendsmap shows you the latest Twitter trending hashtags and topics from anywhere in the world. Click on a word, zoom into your area of interest, and explore. You can also jump directly to our Locations or Top tweets :
Explore the past : Analyse and visualise any topic, hashtag, word, user, or tweet in detail. Explore back hours, days, weeks, and even months.
Be the first to know : Create email and Slack based alerts for any topic. Our easy to use queries allows you to refine the results to be exactly what you need.
Ayman Al Owisi🌐
Muscat, Oman
Followers: 2,941, Following: 2,056
Joined 2011-05-07
Vice Head @NTC_Oman| Co-Supervisor of Translation Lab @ Bait Al Zubair|BA, MA in Translation,SQU| Parliamentary Translator| MA international relations student.
Activity
في ما يتعلق بسؤال ، هل ينتقل فيروس الكوفيد عن طريق الهواء ؛ منظمة الصحة العالمية تقول أنه الطريقة الرئيسية لانتقال المرض هو قطيرات الرذاذ و الملامسة
دورة الإبداع في الترجمة
.
التحرر من الحرفية في الترجمة..
العمل بتميز وابداع..
دورة مكثفة تطبيقية تعتمد على الأمثلة والتمارين والمصادر
.
15-17 يوليو (للبث المباشر)
6-9 م
180 ريال - أفضل قيمة مقابل المال 💝( الساعة التدريبية بـ 20 ريال فقط)
.
سجل معنا:
forms.gle/nRRDAFh1LuK1sm… pic.twitter.com/3Es5MyUAJL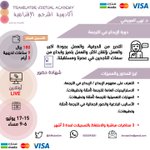 🌎👩🏻‍💻🧑🏻‍💻
نظرا لأهمية الترجمة الشفوية 🗣
ولكثرة الطلب عليها، والحاجة لها في جميع المجالات🌍

يسرنا أن نطلق خامس دورات صيف #تراجم التدريبي🌞🌐

دورة الترجمة الشفوية

مع المترجمة الخبيرة:
أ. هند العيسى @Hendalesssa

• المقاعد محدودة 💓🪑
• الاشتراك من هنا:
traajimstore.com/vYZKPy pic.twitter.com/T7I2vfGqp1