Explore Twitter Trending Topics
Know what's happening now : Trendsmap shows you the latest Twitter trending hashtags and topics from anywhere in the world. Click on a word, zoom into your area of interest, and explore. You can also jump directly to our Locations or Top tweets :
Explore the past : Analyse and visualise any topic, hashtag, word, user, or tweet in detail. Explore back hours, days, weeks, and even months.
Be the first to know : Create email and Slack based alerts for any topic. Our easy to use queries allows you to refine the results to be exactly what you need.
Carlos Cadena-Gaitán
Colombia
Followers: 18,737, Following: 1,999
Joined 2009-05-14
Actualmente sirviéndole a la sociedad como Secretario de Movilidad de Medellín. Equipo #MedellínFuturo 🚲/ Currently serving as Medellín's Transport Secretary.
Activity
mira el andén @sttmed y @CadenaGaitan de todos los días!! cra. 65 entre 50 y 51, denunciado por derecho de petición y nada. @personeriamed tal vez nos pueda ayudar con @danielduquev pic.twitter.com/XeW8wa4QHx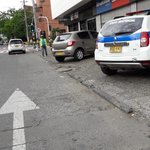 Los
#PlanesEstrategicosdeSeguridadVial
son una herramienta que tiene el estado para disminuir los siniestros en las vías y las empresas que cuenten con flota de vehículos deben implementarlas y las secretarias de movilidad hacer seguimiento a este tema.