Explore Twitter Trending Topics
Know what's happening now : Trendsmap shows you the latest Twitter trending hashtags and topics from anywhere in the world. Click on a word, zoom into your area of interest, and explore. You can also jump directly to our Locations or Top tweets :
Explore the past : Analyse and visualise any topic, hashtag, word, user, or tweet in detail. Explore back hours, days, weeks, and even months.
Be the first to know : Create email and Slack based alerts for any topic. Our easy to use queries allows you to refine the results to be exactly what you need.
Gema Igual Ortiz
Santander, España
Followers: 6,460, Following: 916
Joined 2014-06-18
Mamá de Sara. Alcaldesa de #Santander y enamorada de esta ciudad. Con @gmpsantander. De @populares.
Activity
👉🏽Nos hemos reunido con el consejero de Industria de @cantabriaes
👉🏽Hemos hablado de comercio, del centro de empresas y de varios proyectos para optar a los fondos europeos pic.twitter.com/PpTnF0lxMy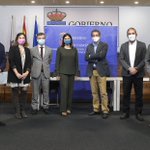 +2