Explore Twitter Trending Topics
Know what's happening now : Trendsmap shows you the latest Twitter trending hashtags and topics from anywhere in the world. Click on a word, zoom into your area of interest, and explore. You can also jump directly to our Locations or Top tweets :
Explore the past : Analyse and visualise any topic, hashtag, word, user, or tweet in detail. Explore back hours, days, weeks, and even months.
Be the first to know : Create email and Slack based alerts for any topic. Our easy to use queries allows you to refine the results to be exactly what you need.
Hazeman Huzir
Bukit Jalil, Kuala Lumpur
Followers: 84,535, Following: 202
Joined 2010-09-04
TV Host, Producer. And now a Youtuber that focuses on human issues (Link below).
Activity
Global
360 tweets in the last day
These are what I got from @hazemanhuzir 's talk tonight. I just love how straightfoward he is. Truly inspiring! Thankyou abang Haze, may Allah bless you always 💖 pic.twitter.com/WDPOqvlNsG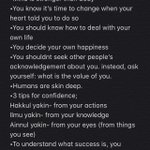 +2
Orang perempuan kalau bab note taking memang detail 🤣

Thank you KMKu for inviting me. Sorry kalau rupa semalam barai sangat. Jadual hectic sikit.