Explore Twitter Trending Topics
Know what's happening now : Trendsmap shows you the latest Twitter trending hashtags and topics from anywhere in the world. Click on a word, zoom into your area of interest, and explore. You can also jump directly to our Locations or Top tweets :
Explore the past : Analyse and visualise any topic, hashtag, word, user, or tweet in detail. Explore back hours, days, weeks, and even months.
Be the first to know : Create email and Slack based alerts for any topic. Our easy to use queries allows you to refine the results to be exactly what you need.
Hend Sabry - هند صبري
Egypt
Followers: 5,741,003, Following: 628
Joined 2009-06-16
Tunisian Actress, Lawyer and UN World Food Programme Ambassador..#kotobjeya #كتبجية
Activity
Imagine watching a movie starring @karimabdelaziz
@ahmedezz123
@HendSabry
@hudaelmufti
@jrMalek

Directed by @marwanhamed

Based on 1919 novel by @Ahmed_Mourad who also wrote the "Blue Elephant."

All of these with the Legend
Sayed Ragab!
WHO ELSE CANT WAIT!😍 pic.twitter.com/twBHcY1QQs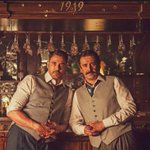 In the United States, "dolls" (which are defined to include human figures) are taxed at a higher rate than "toys" (which include nonhuman creatures).

In 2003, Marvel successfully argued that because mutants are not humans, X-Men toys should be taxed at the lower rate.

If you had a choice when cinemas reopened, what movie would you see first?