Explore Twitter Trending Topics
Know what's happening now : Trendsmap shows you the latest Twitter trending hashtags and topics from anywhere in the world. Click on a word, zoom into your area of interest, and explore. You can also jump directly to our Locations or Top tweets :
Explore the past : Analyse and visualise any topic, hashtag, word, user, or tweet in detail. Explore back hours, days, weeks, and even months.
Be the first to know : Create email and Slack based alerts for any topic. Our easy to use queries allows you to refine the results to be exactly what you need.
Najib Mikati
Lebanon | لبنـان
Followers: 546,249, Following: 1,235
Joined 2010-01-22
Official Twitter feed for the Former Prime Minister of Lebanon; also, Member of Parliament for Tripoli, North-Lebanon.
Activity
Global
550 tweets in the last day
Nous remercions le Président français
@EmmanuelMacron
qui a transmis un message de soutien aux Libanais.
Son insistance sur la politique de distanciation que nous avons instaurée pendant notre mandat au gouvernement a défini la solution qui épargnerait le Liban des risques.
عقد رؤساء الحكومات السابقون @Najib_Mikati، @SinioraFuad، سعد الحريري و @SalamTammam اجتماعاً عصر اليوم في #بيت_الوسط، تم خلاله البحث في آخر المستجدات والتطورات ولاسيما حادث الانفجار الضخم الذي وقع في #مرفأ_بيروت وما نجم عنه من اضرار كارثية وضحايا بشرية. pic.twitter.com/B3gaUSPaYu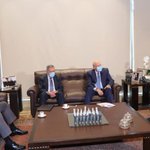 ليك مين عم يحكي؟ ؟؟ ولك انت مش عايامك فاتت باخرة الموت؟ وين كنت؟ مشغول عم تعد مصاري الاسكان يا بلا ضمير؟!!!!!!!