Explore Twitter Trending Topics
Know what's happening now : Trendsmap shows you the latest Twitter trending hashtags and topics from anywhere in the world. Click on a word, zoom into your area of interest, and explore. You can also jump directly to our Locations or Top tweets :
Explore the past : Analyse and visualise any topic, hashtag, word, user, or tweet in detail. Explore back hours, days, weeks, and even months.
Be the first to know : Create email and Slack based alerts for any topic. Our easy to use queries allows you to refine the results to be exactly what you need.
AHY.DemokratPemimpinMasaDepan
Jakarta Pusat, DKI Jakarta
Followers: 34,261, Following: 4,244
Joined 2010-03-14
98 Radikal, Alumni FHUI, Politisi Demokrat, Saudagar Kopi Gayo, Ayah Dua Anak, Suka Mancing, Founder Firma Hukum PTM & Co, WA: 08176489123, ig:taufiqurrahmandki
Activity
Saya tmbahin datanya hasil copas, 1.SBY Periode 2009 - 2014 rasio utang turun dari 28,73 ke 24,68 2. Jokowi 2014-2019 Rasio utang naik dari 24,68 ke 30,18. Saya bukan ekonom, Mau nanya pak @OssyDermawan dan bang @taufiqrus kira2 yg bagus Rasio utang Naik Apa turun?😃😃 pic.twitter.com/FpXAySw72n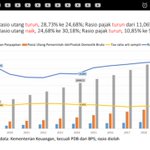 Sebagai organisasi regional di Asia Tenggara,
@ASEAN
lahir 53 thn yg lalu utk wujudkan stabilitas & perdamaian di kawasan. Perannya juga sentral dlm kerja sama strategis & kolaborasi multilateral lintas kawasan & dunia.
#ASEANDay53