Explore Twitter Trending Topics
Know what's happening now : Trendsmap shows you the latest Twitter trending hashtags and topics from anywhere in the world. Click on a word, zoom into your area of interest, and explore. You can also jump directly to our Locations or Top tweets :
Explore the past : Analyse and visualise any topic, hashtag, word, user, or tweet in detail. Explore back hours, days, weeks, and even months.
Be the first to know : Create email and Slack based alerts for any topic. Our easy to use queries allows you to refine the results to be exactly what you need.

Another CreekTop Gardens donation! This massive tomato haul was donated to MICAH House, New Visions Homeless Services and Community of Christ Food Pantry over the past 1.5 weeks.
🌱 55 pounds tomatoes!!
🌱 3 pounds cherry tomatoes
🌱 1.5 pounds jalapeños and habaneros pic.twitter.com/9iXUT3RAiy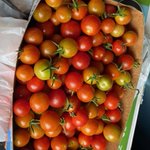 +3

Espacios que hoy extrañan a cientos de habaneros que disfrutaban del bello paisaje de nuestro malecón habanero.