Explore Twitter Trending Topics
Know what's happening now : Trendsmap shows you the latest Twitter trending hashtags and topics from anywhere in the world. Click on a word, zoom into your area of interest, and explore. You can also jump directly to our Locations or Top tweets :
Explore the past : Analyse and visualise any topic, hashtag, word, user, or tweet in detail. Explore back hours, days, weeks, and even months.
Be the first to know : Create email and Slack based alerts for any topic. Our easy to use queries allows you to refine the results to be exactly what you need.
Ecco One of the features which Schäuble wanted for the EMF was the "sovereign restructuring mechanism", automatic hair cut deemed to spook investors and aggravate the market pressure on member states to make them fall in line faster

Ancora con 'sta storia del cazzo? MES -con l'approvazione definitiva della Camera- è stato ratificato nel 2012: NESSUNO lo può modificare se non il governatore Schäuble e compari (gamerlandia.net/2012/07/20/mes…). Come si vede sotto, la pagina delle votazioni del 2012 è stata cancellata. pic.twitter.com/XyxblO9X8f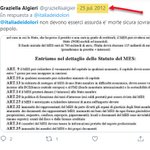 +3

Beliebt und verbreitet seit Kohl und Schäuble.
🙈 VERGESSEN - jetzt ganz einfach! 😂🤣
Nicht nur für alle in und um 🇦🇹🇦🇹🇦🇹
Soo viel hab ich selten gelacht... 😂😂
👉🏻 gefunden bei Strahlenkranz 🙏🏻
😱 Irre Welt im Clownskostüm!
(👉🏻 etwas ernster, aber lustig...)
🙏🏻 Friedlich, souverän und mit viel Spaß! 🥳
pic.twitter.com/EXPbixh8v2